Dalmatian Jasper and Chakra Jewelry
Posted June 17, 2014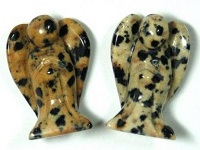 Because of my training as a Certified Vinyasa Reiki Yoga Teacher, I truly appreciate the deep, deep chakra power of Dalmatian Jasper and how it can be used in Chakra jewelry, Yoga jewelry and crystal healing jewelry.
Dalmatian Jasper has been used throughout the ages to make animal and spirit totems. It is most readily known for its calming and healing properties, used to harmonize emotions that are confused or misaligned. It is also recognized as being a powerful aid in preventing the misalignment of emotions going into situations that are likely to be upsetting or confusing. This isn't surprising, as Dalmatian Jasper is known to help overly analytical individuals gain clarity, and it is also associated with the calming and reassuring spirits of our animal friends.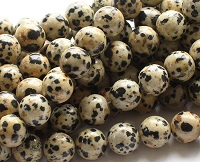 Dalmatian Jasper has long been seen as a "stone of service," helping the wearing to think of others. It accomplishes this by clarifying and purifying the aura and other dysfunctional energies. The black Tourmaline inclusions can help to powerfully and quickly dissipate and transmutes harmful energy that would otherwise lead the wearer toward potentially unsafe situations or decisions. For these reasons, Dalmatian Jasper can help during times of mild depression or emotional ruts, opening our senses to the possibility of fun, humor, and surprise.
Dalmatian Jasper's Primary Chakras are Root, Sacral and Solar Plexus. Its Astrological sign is Gemini.
» Share: