September 2014
Posted September 11, 2014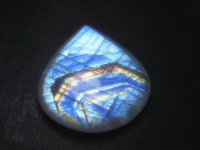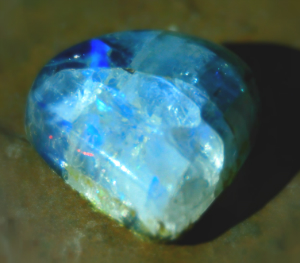 Reminiscent of opal, Rainbow Moonstone is a stunning healing gemstone – perfect for fancier chakra jewelry, reiki bracelets and yoga jewelry. It has been known as a sacred healing crystal going back at least two thousand years throughout Asia and Europe. As you might expect from its bright, luminescent look, Rainbow Moonstone will bring out your inner beauty, inspire you to express your positive and confident feelings, and help you to show the world your hopes and faith. Rainbow Moonstone chakra jewelry also emits a noticeable vibration that can connect you with psychic feelings – particularly for those born under the sign of Cancer. It is associated with the Third Eye Chakra and the Crown Chakra. This is a strongly spiritual stone that can help balance male and female energies, aligning you with the intense connections between the Earth and the Moon – hence, its name! The Rainbow Moonstone is found in India, Sri Lanka, Madagascar, Australia, Myanmar, Australia and North America.
Posted September 11, 2014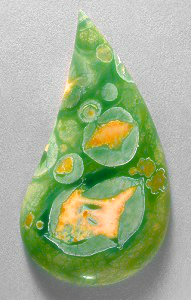 Laying on the ground, covered in dirt and unpolished, you might think that Rainbow Jasper was "just a rock." But this green form of Rhyolite is really one of our most powerful healing stones – and when polished one of the most beautiful. Also known as Australian Rainbow Jasper because it comes from Western Australia, Rainbow Jasper emits a tender, undulating energy that attracts upbeat, positive people into our lives. This chakra jewelry stone also has the effect of inspiring the wearer to be more sensitive to the earth and the environment, pulling us toward natural places and spaces. When transformed into yoga jewelry or a reiki bracelet by a trained healer, Rainforest Jasper will bond with the wearer and emit a vibration for courage and positive change. This is a Heart Chakra healing stone and is associated with the Aries, Gemini and Sagittarius Astrological signs.