The best way to see up to the minute info and new products is to join the Cosmic Lotus Jewelry & Crystals Facebook group...
Nickel City Welcomes Cosmic Lotus!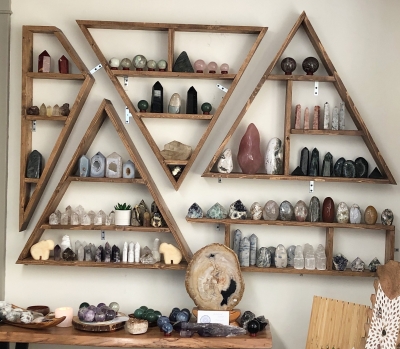 Cosmic Lotus has put down ROOTS!
We all know that 2020 was a wild year - one that changed all of our lives. The lifeblood and business model of Cosmic Lotus (and many other small businesses) was large scale holistic/metaphysical/psychic fairs all across the country, including long road trips from Bufalo, NY to places as far west as Denver, CO. However, as of March 2020. out of state travel was no longer an option.
The only way to sustain a business was to completely change it. Cosmic Lotus was built on intuition so after several major pivots and adjustments, a conversation with the owner of Nickel City Skin Spa & Boutique brought the idea of a large retail footprint into reality. The one-of-a-kind custom crystal wall was installed just a few weeks later.
Nickel City is a woman-owned collaborative space run by the incredible Kristine Koch. Nickel City offers a wide range of services, including skin care, waxing and massage; in addition, the boutique features over a dozen (and counting) female-owned small businesses with that number growing every day.
You can find Nikki at the big orange house at 4500 Harlem Rd in Snyder on Wednesdays 12-6; in addition, reiki/energy healing sessions are now being scheduled every other week. Please contact Nikki at (818) 605-6356 or by email at cosmiclotusjewelry@gmail.com for more info or to schedule an appt.
Home | Nickel City Skin Spa + Boutique
» Share: