Namaste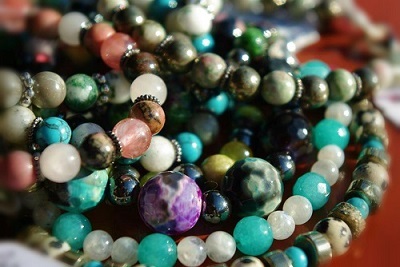 I make each Cosmic Lotus bracelet by hand, using my training in Chakra Balancing, Vinyasa Yoga, Reiki and Crystal Therapy to combine the healing mineral and aesthetic properties of each stone into a dazzling, wearable work of art. This truly makes my creations authentic, healing sacred jewelry.
You'll find lots of information here at Cosmic Lotus about the different stones and crystals I use, as well as the ancient wellness techniques I employ to create this unique jewelry for my customers.
If you are interested in a custom piece, please contact me! I have hundreds of different gemstomes and semi-precious natural stones on hand and get new supplies in every week. The store feature on this page is also being updated to reflect new inventory, including essential oil-infused lava stone bracelets, essential oil aromatherapy sprays (including a full chakra set) and many new bracelet designs. In addition, I will be offering a "custom" feature through the store that allows you to design your own jewelry based on available stones.
For additional designs, please visit www.etsy.com/shop/cosmiclotusjewelry.
I look forward to hearing from you soon. Namaste.
-- Nikki Benatovich